Sometimes it is the little things that make all the difference. When you see a banner hanging somewhere, it is hard to not want to read what it says. It almost always gets your attention. Not to mention that printing a banner can be one of the cheapest solutions for promoting a business, message or having fun.
We print banners on variety of materials such as paper, vinyl, mesh and fabrics. If you need a quick banner to tape on a wall, then paper is a fine option. If you need a banner to hang outside such as on a fence, building or light pole, then vinyl is your best choice. If you a printing a banner to hang from a building or stretch between poles to last a long time, them a mesh banner may be your best option. If you want something looks and feels a little classier than a vinyl banner, then printing on fabric gives anther great option.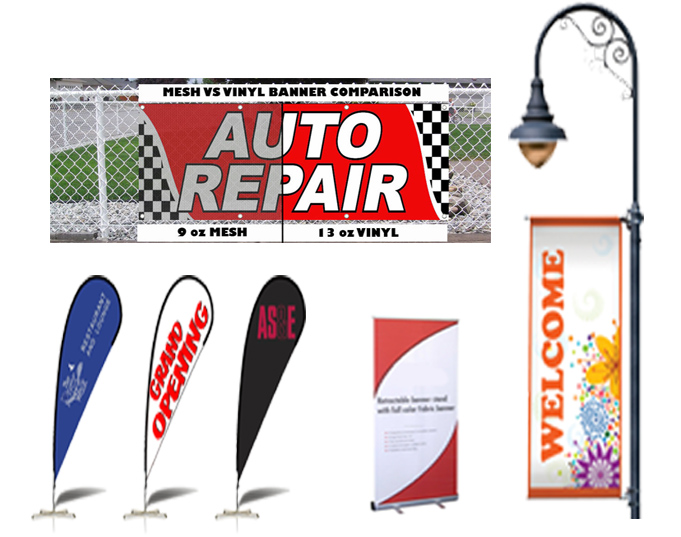 Popular Banner Types:
Vinyl Banners

Fabric Banners

Pole Banners

Backdrop Banners

Step & Repeat logo'd Banners

Job Site Banners

Special Offer Banners

Mesh Banners

Banner Stand Banners

Tradeshow Banners

Event Banners
Installation
Banners are one of the easiest signage applications to install. Use cords, strings or bungees to attach the corner grommets to a stationary object, such as poles. You can also use screws and washers to install your banners to rigid backgrounds such as wood or concrete, or you can use zip ties or string to fasten them to fences or between posts.
Care
To care for your custom banners, regularly clean them with warm water and allow them to air dry before storing. To easily store your banners, roll them up and keep them in a dry area at room temperature. Any wrinkles in your banners should come out within a couple of hours in the sun or heat.